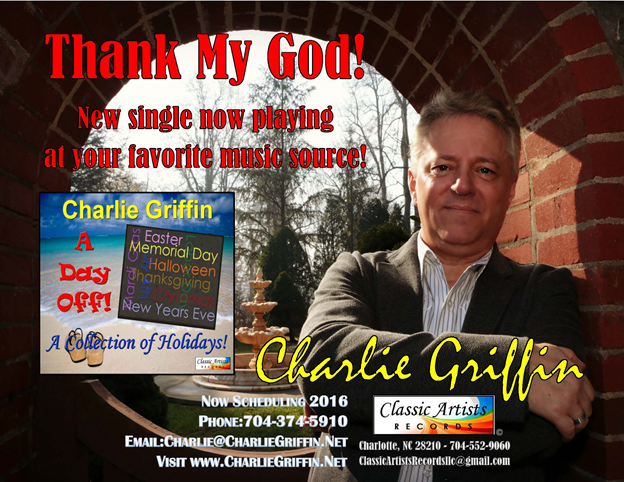 Classic Artists Records producer Christopher Sutton shares, "At first we wanted a Christmas cd and Charlie was not fully on board with recording one. So after a many conversations, the idea came to take the most of the recognized federal holidays and work a cd around them." Charlie says, "Most people get A DAY OFF when there is a federal holiday. So why not choose song material that best reflects those days. We celebrate with family and friends on those days and with others from our churches."
"A Collection of Holidays!" features many federal holidays and a few that are just observed because they are the fun holidays. New Year's Day, Valentine's Day, Easter, Mothers/ Father's Day, Memorial Day, July 4th, Labor Day, Halloween, Thanksgiving, Christmas and New Year's Eve. The 20 song CD collection features some new material but standards as well. From the memorable Etta James song AT LAST or HAVE I TOLD YOU LATELY to HE LIVES, THEN CAME THE MORNING, RING THE BELLS OF FREEDOM/ GOD BLESS AMERICA, WORKING ON A BUILDING, JINGLE BELLS. New songs STREETS OF GALILEE, IT'S A NEW DAY, THANK MY GOD, HELP SOMEBODY and so many more are sure to please the avid gospel music fan.
Music production has been directed by Christopher Sutton, Art Bain and Stephen Sanders. From the rich full orchestration to bubbly brass and the signature guitar picking of David Johnson, each song has been arranged for a unique listening experience. First Voices along with special music friends Vicki Clayton Harvell and Cheri Bradshaw McKinney fill the background and harmonies for this long awaited production. YES, there are still a few surprises for music fans.
Classic Artists Records has chosen a new song; I THANK MY GOD as the 2016 kick-off single. The laid back worship song filled with a positive message about everyday life, " Already in concerts the song has proven to be a crowd favorite. Griffin states, "I love singing songs that are fun, positive and encouraging. I THANK MY GOD- just really says it all. I love the style, the flow and most of all the spirit."
The radio single INCLUDED in the release and is available now on www.Radiomusicfm.com/charlie-griffin/audio now. Your FREE registration is available now for all Classic Artists Records music, plus many others.
For more information on Charlie Griffin, visit www.CharlieGriffin.Net for the comings and goings of the tour schedule, product orders and news. Email Charlie@CharlieGriffin.Net or phone 704-374-5910.
Important links:
www.CharlieGriffin.Net
http://radiomusicfm.com/charlie-griffin/audio
www.Facebook.com/ClassicArtistsRecords
www.Jango.com/Charlie+Griffin
www.Facebook.com/cg28210
For more news visit SGN Scoops on Facebook.